Pan Mixer Information
REED's powerful M2200 Pan Mixer can mix a 3000 lb batch of shotcrete / concrete materials. The mixer then quickly discharges the material into the pump hopper to be either sprayed or pumped.
The M2200 features:
• Variable Speed Mixer Blade Rotation (Hydraulic Motor Drive, 59 RPM maximum, Torque 13762 Nm)
• Manual Retractable Legs, 4 each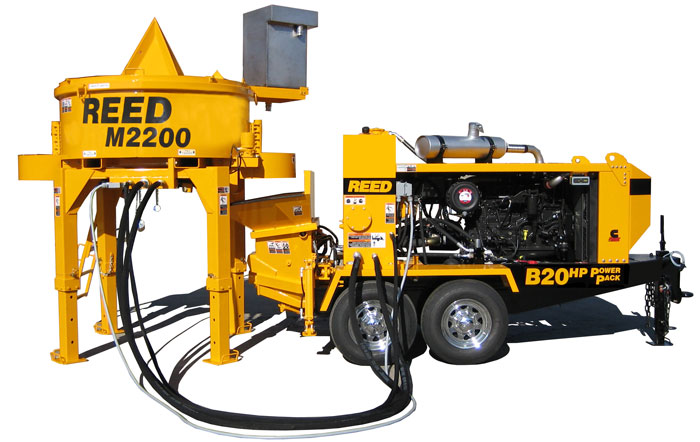 • ForkLift Tubes and Lifting Eye Kit for Easy Lifting and Transport
• Work Platform with Control Box and Safety Railing
• Quarter Panel Safety Grates Cover with Cutoff Switch • Stainless Steel or Plastic Water Tank for Precise Water Measurement (optional)
• Bag splitter (can be removed to fit mixer in shipping container)
• NEMA 4 Fully Enclosed Weather Proof Control Box mounted on operator platform
• Power On-Off, Mixer Stop-Start, E-Stop, Horn-Reset, Mixer RPM Control, Primary Discharge Open-Close, CleanOut Discharge Open-Close, CleanOut Tilt Up-Down, Hydraulic pressure gage and Amp meter
Dimensions:
• Length: 96" (8 ft, 0 inches)
• Width: 86" (7 ft, 2 inches)
• Height:
• minimum: 102" (8 ft, 6 inches) (for transport)
• maximum: 154" (12 ft, 11 inches) (for operation at max height)
• minimum clearance under discharge door: 67″
• maximum clearance under discharge door: 99″
• Weight: Mixer: 7300lbs (2300lbs for optional power pack)*
CLICK here for the Specifications Sheet for the 3000 lb Heavy-Duty Electric/Hydraulic Power Pan Mixer.
The M2200 Pan Mixer can also be powered by a small Hydraulic Power Pack (sold separately).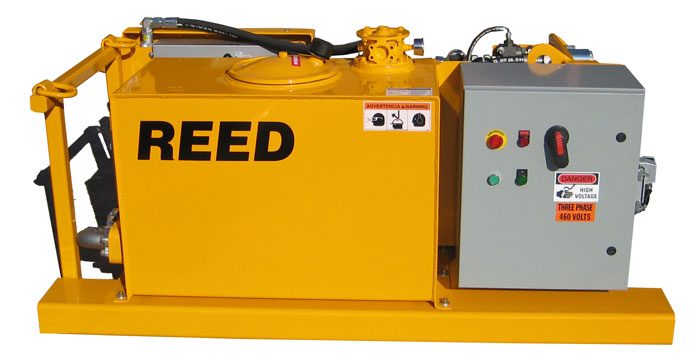 Power Pack information is as follows:
•Electric Power: 50 HP, 440 V, 3 Phase, 60 Hz (50 Hz is also available)
•Diesel power (optional) •Variable Displacement Hydraulic Piston Pump (displacement 71cc)
•Quick Disconnects (Hydraulic, Electrical) for ease of set-up and clean-up
•Power Pack will store under the M2200 mixer during transport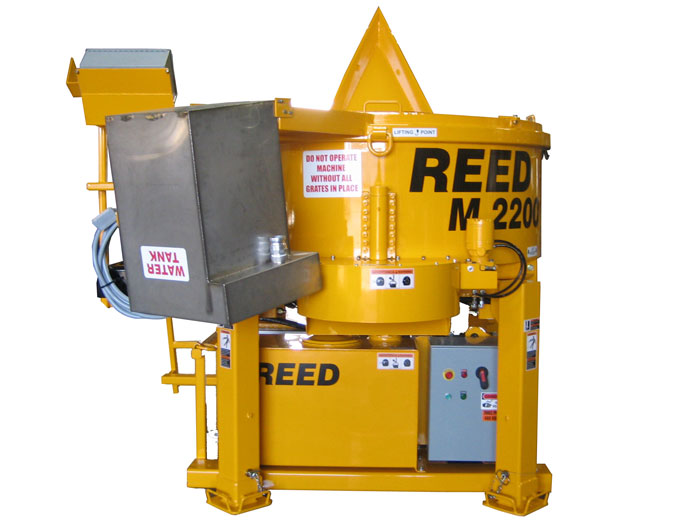 The M2200 Pan Mixer was designed for easy to transport (as shown below). The four legs of the mixer quickly shorten to reduce the shipping height. The water tank folds downward for transport. The hydraulic Power Pack slides underneath the mixer. A forklift driver can quickly unload the M2200 from a flatbed truck using the forklift tubes on the mixer and the power pack (see below).