Mini Pump MINE30
REED's extremely compact Mine 30 Model Pump was designed for jobsites with very limited space. (dimensions length 96″ (2438mm) x width 46.5″ (1181mm) x height 64.7″ (1643mm)) This mini concrete, grout, and shotcrete pump is small enough to be cross mounted on a truck or mine carrier for underground applications such as mining and tunnelling.
The Mine 30 features:
• "S"-Tube (6″ x 5″) (152mm x 127mm) can  pump grout, flowable fill, pea-gravel mixes, shotcrete mixes, even "big rock" concrete with aggregates up to 1.5" (38mm).
•ForkLift Tubes on the End and Side for easy lifting and transport (standard)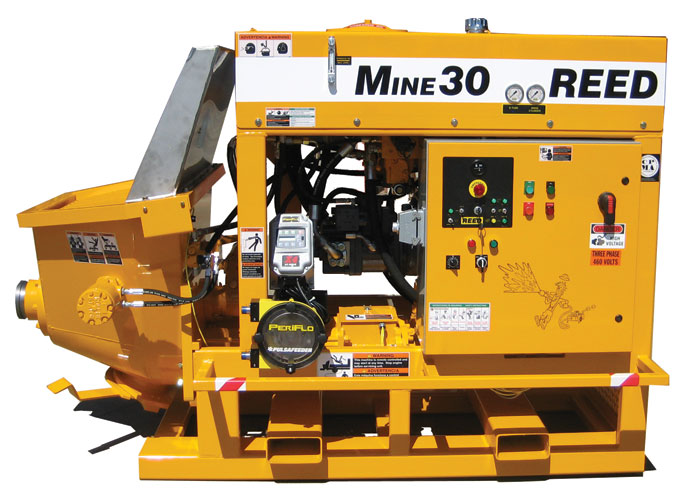 •Maximum output of 30 cubic yards per hour (23 cubic meters per hour) and 1172 psi (81 bar) concrete pressure (with 50 hp (37 kW) 60Hz electric motor)
•Chromed 6″ (152 mm) Diameter Concrete Cylinders provide long service life
•Polyurethane Piston Cups for inexpensive and simple wear part replacement
Click here for SPECIFICATIONS SHEET for standard features/additional features and specifications.